---
---

PETER DURRANT
Nationality:
British
email:
n/a
Website:
n/a
Literary Agent:
n/a
Peter Durrant's plays including biography, theatres, agent, synopses, cast sizes, production and published dates
Buy Plays with Doollee
Each page of doollee.com has links to play/book outlets, either directly to the Publisher, through Stageplays.com and Amazon to the second hand and 1st editions of AbeBooks. These links will automatically take you to the relevant area obviating the need for further search.
AbeBooks.co.uk
AbeBooks.com
Stageplays.com
amazon.com
amazon.co.uk
amazon.ca
---
whether you are a Playwright who wishes to make their entry definitive, an unlisted Playwright or a User with a tale to tell - we want to hear from you.
download WORD submission template
---
---
---
Another Joke, Another Lie
Synopsis:
In a dressing room a comic tries to convince another comic not to go on stage with their double act.
Notes:
-
1st Produced:
Organisations:
-
1st Published:
- -
Music:
-
To Buy This Play:
If Publisher (above) is underlined then the play may be purchased by direct click from the Publisher, otherwise (below) are AbeBooks for secondhand, signed & 1st eds and other Booksellers for new copies
Booksellers:
Genre:
One act
Parts:
Male: - Female: - Other: -
Further Reference:
-

Top of Page
Brylcreem Boys, The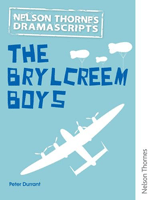 This was a TV play about a World War II bomber crew - broadcast sometime in the 1980s. the protagonist was an RaF ground crew who had committed some offence in 1942 and as a punishment he was made to mount guard all night on an east anglian airfield in the depths of winter. It was bitter cold and standing in his frozen sentry box he got frostbite as a result - a 'mild' case - and was sent to recuperate in the only nearby hospital - which was a small 'cottage hospital' used for aircrew who had mentally cracked under the strain of bombing Berlin. He is deeply offended to be put in with a ward of 'nutters'. who were all manic, catatonic or wildly deranged. But he was forced to stay as this was the only available facility. He deeply resents being lumped in with the 'Lack of Moral Fibre' cases but his complaints are ignored: "there's a war on!". On his first night in the ward, a full moon is rising and he is astonished to see the catatonic bomber pilot, who has never moved or spoken, rise from his bed and position his chair in the centre of the ward - in the moonlight. For the first time this pilot speaks . "Its a bombers moon chaps - time to go" . the other 'mad' crew members, one by one rise from their beds like ghosts and position their chairs along the ward centre - recreating a Lancaster bomber in outline. Much against his will, the frostbite victim is dragged into their nightmare and literally forced to take the navigators position in their imaginary bomber. He plays along in a mixture of fear and tittering at their obvious insanity. But as the pilot goes through the crew checks and says 'start outer port engine' - the nightmare starts to become a reality. all of the sounds and sights of a real bomber come to life and he finds himself transported to a bomber over central Berlin, shaken by flak explosions and thousands of bomb concussions - in a terrifying recreation of this crew's last mission. they are repeatedly hit by flak - which starts fires in two engines. Finally they are raked by the cannon shells of an invisible night fighter and the plane is reduced to a bloody slaughterhouse. the mid-upper-gunner is disembowelled and dies in agony. Other crew members are seriously wounded and they all endure a horrific journey home lasting five hours as the pilot nurses the stricken bomber home on two engines. Just as dawn breaks the protagonist comes to his senses back in the ward, on his chair with the weeping, traumatised crew around him. He helps the sister carry them all back to their beds, where they resume their normal catatonia or madness. He finally understands what they have been through and what 'lack of moral fibre actually means'.
It was an extremely powerful and moving Drama which has haunted me ever since. My recollection is that it was called 'the Brylcreem Boys' - or perhaps 'a Bomber Moon', but searching for both of these titles has failed to produce a 'hit' - apart from a more modern film and Mike Harding's famous poem of the same name (Bombers Moon). If this rings any bells I would be very grateful for any information. "Graham White"
Notes:
set in 1944 in RaF Hospital for Aircrew with David THReLFaLL And Alvar LIDeLL. BBC2 Playhouse 1979 (broadcast 21/11/79.)
1st Produced:
Organisations:
-
1st Published:
Nelson Thornes 2014 978-1408522035
Music:
-
To Buy This Play:
If Publisher (above) is underlined then the play may be purchased by direct click from the Publisher, otherwise (below) are AbeBooks for secondhand, signed & 1st eds and other Booksellers for new copies
Booksellers:
Genre:
Play/Drama
Parts:
Male: 2 Female: - Other: -
Further Reference:
-

Top of Page