---
---

PETER HIBBERDINE
Nationality:
New Zealander
email:
Click here to contact
Website:
n/a
Literary Agent:
n/a
Peter Hibberdine is an Auckland-based playwright and actor.
Buy Plays with Doollee
Each page of doollee.com has links to play/book outlets, either directly to the Publisher, through Stageplays.com and Amazon to the second hand and 1st editions of AbeBooks. These links will automatically take you to the relevant area obviating the need for further search.
AbeBooks.co.uk
AbeBooks.com
Stageplays.com
amazon.com
amazon.co.uk
amazon.ca
---
whether you are a Playwright who wishes to make their entry definitive, an unlisted Playwright or a User with a tale to tell - we want to hear from you.
download WORD submission template
---
---
---
Say It Without Blinking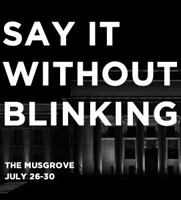 Say It Without Blinking is set amongst the workplace politics of a modern natural history museum: A children's theatre producer is forced by her awful boss to put on a Chekhovian snoozefest for eight-year-olds that the boss has penned herself called, "The Colour of Silence". Chaos ensues& the beleaguered producer is fired, who in turn tells the boss that her play sucks and that, moreover, she has been conducting an affair with her husband. The boss ultimately kills herself with the dying wish that her play be performed once more to an empty theatre. The final act (a scene from the "The Colour of Silence") is word for word identical to Act Two, except this time with different actors and a wildly different outcome. Whereas in Act Two the acting was purposefully awful, in Act Five the acting is sublime and the scene works. Say It Without Blinking transports complex ideas about recursion and meaning into the realm of social interaction, creating a simple tale of loss, guilt and redemption.
Notes:
-
1st Produced:
Musgrove Studio, Maidment Theatre, Auckland 26 Jul 2011
Organisations:
-
1st Published:
- -
Music:
-
To Buy This Play:
If Publisher (above) is underlined then the play may be purchased by direct click from the Publisher, otherwise (below) are AbeBooks for secondhand, signed & 1st eds and other Booksellers for new copies
Booksellers:
Genre:
Tragicomedy
Parts:
Male: 2 Female: 2 Other: -
Further Reference:
-

Top of Page
Why Is Everybody So Full Of Technique?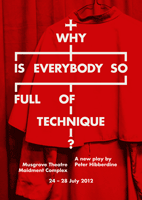 This is the surreal tale of A besieged Vatican from 530aD, As pieced together by blind-drunk historians from the distant future. An ill-advised PR campaign involving Sheena easton sets off A chain of events that can only end in stylish, demented tragicomedy And biologically extruded clerics. Will the empress theodora finally break into the Vatican And burn it down? Will Silverius find out which one of his confidantes betrayed him? Or will the beleaguered Pope be brought to his knees by the combined forces of paranoia And high-IQ stupidity? Rest Assured that, whatever happens, it's About A million miles Away from what Actually occurred in the sixth century. . . A bizarre comedy that pits the faithful And the faithless Against each other, while tackling issues of survival, church politics And raising the Age-old question, What happens when the Vatican has A Pope who does not believe?
- http://www.theatreview.org.nz
Notes:
-
1st Produced:
Musgrove Studio, Maidment Theatre, Auckland 24 Jul 2012
Organisations:
-
1st Published:
- -
Music:
-
To Buy This Play:
If Publisher (above) is underlined then the play may be purchased by direct click from the Publisher, otherwise (below) are AbeBooks for secondhand, signed & 1st eds and other Booksellers for new copies
Booksellers:
Genre:
comedy
Parts:
Male: 2 Female: 2 Other: -
Further Reference:
-

Top of Page